Submitted by class1 on Tuesday, September 28, 2021 - 07:53
In Literacy, we have been looking at the text Meerkat Mail by Emily Gravett. We know the book so well, we have recited it for you!
Submitted by class1 on Tuesday, June 22, 2021 - 10:47
We had a naughty toy box come to visit! He has been eating some of our toys! They have been really scared of him! Then one day he left us a poem! We have spent time looking at the poem and we have had a go at writing our own versions! We then wrote them up neat and made our very own naughty toy boxes to put them in!
Submitted by class1 on Monday, April 26, 2021 - 10:18
Have a look at Cuckoo's fantastic Rumble in the Jungle poems we created last term, based on the book by Giles Andreae!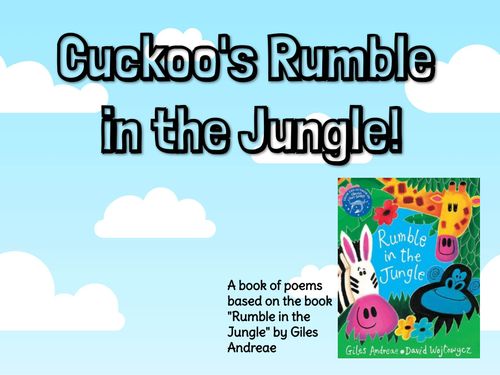 Submitted by class1 on Monday, September 7, 2020 - 16:21
Here are a few pictures from our fun, first day together!
This morning we spoke about being in Cuckoo class, we learnt about using our pegs during child initiated play, we drew some pictures and wrote some words or sentences about our favourite thing we did in the summer holidays. Then this afternoon we started with a story about a Cuckoo, we then did some AMAZING counting and finally we painted some pictures of ourselves.
Submitted by headteacher on Monday, February 24, 2020 - 23:52
We're delighted to announce the launch of The British Library's new website for primary school children, teachers and book-lovers of all ages. This free-to-access resource – Discovering Children's Books– explores the history and rich variety of children's literature, through treasures from the British Library, Seven Stories, Bodleian Libraries and the            V & A.
Explore over 100 fascinating items, from one-of-a-kind manuscripts to illustrations and printed books. Go down the rabbit hole with Lewis Carroll's original manuscript of Alice's Adventures in Wonderland. Rifle through Roald Dahl's drafts, John Agard's poetry notebooks or sketches by Judith Kerr, Axel Scheffler and Liz Pichon.
For the writers and artists of the future, there's a gallery of activities to spark children's creativity and inspire their own stories, poems, illustrations and more.
Dive in here and share the link!
                        @BL_Learning   https://www.bl.uk/childrens-books